Posted on July 11, 2016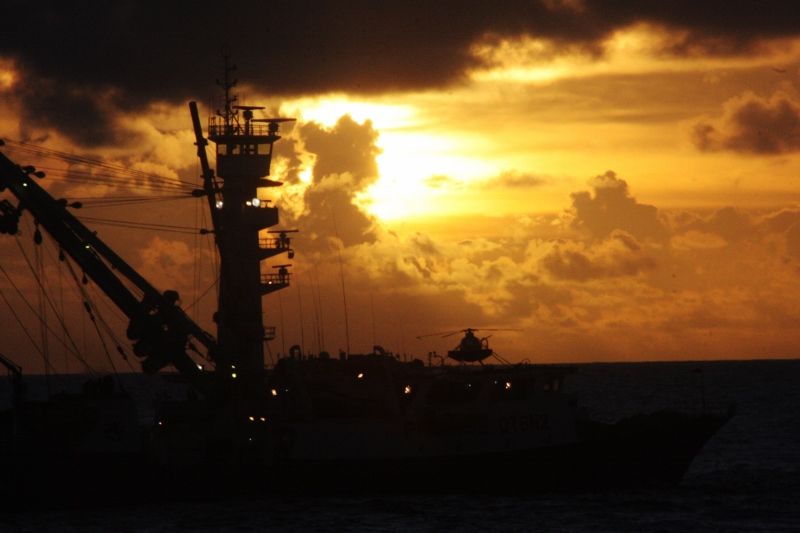 The other day we were sailing and the weather was gorgeous which provided for a rich blue sea. During these weather settings, viewing from the air, water life becomes very visible. From schools of Dolphins to Whales jumping out of the water. Waiting all day and not flying. I thought all hope was lost to fly on this day of days. When at 4:30 pm the loud speaker utters "Choppa pilot, Choppahh standby!"
"To the chopper Pato!" I exclaimed! Pato 'the mechanic' says "See you will fly today!" Finally, after waiting 9 hours in this glorious days of weather days, a flight! The flight was destined to be limited on time with the pending light to vanish in a mere hour and a half. So the 'hour building' aspect was limited. However, this flight was a reminder of exactly why I fly.
Thirty minutes after taking off we see a pial -floating log used to bait fish.- We circle the log and the navigator motions to descend to the log. In a descending orbit I could see a rather large whale and Dolphins in the near distance. Some fish were popping up but nothing significant.
As we came to a 5 ft hover near the log, I could see the whale turn around about 100 meters to the top of the clock in front of us and 5 meters underneath the crystal clear water. He was headed directly towards us and fast. I paused and thought "wow that is a big creature." I estimated it to be about 80ft in length. At this time the navigator screamed, he is Korean and his English is rather limited. He motioned at the whale and said "big big fishy, go up, GOOO UPPP! He started flailing his arms and continued screaming. I think the tons upon tons of sea mammal approaching us at a rapid rate alarmed him. Probably because in the air from time to time you see whales jump out of the water and come splashing down with a tremendous force.
I paused simply because I was curious. The whale came to an abrupt turn in front of us rolling on its side while breaching the surface of the water. He was about 5ft down and 7ft in front of the helicopter. I literally made eye contact with the creature. Before he could bring his tail out of the water I pulled the collective and accented vertically. Watching as this whale gently slide sideward in front of us and gently sinking into the depths of the ocean, there was no violent splash of the tail.
The navigator was screaming something in Korean, I turned off his mic and proceeded to climb and head back towards the boat. Seeing something like this is a reminder of why I fly helicopters. A childhood dream to see the world in the best type of way, from the air. In the US aviation culture, it seems the way of validation when beginning is just hours or to have the prestige of the Epaulets for so many. For me, at this point, the hours do not matter, rather, the type of flying matters and the 'feeling' will reinforce the validity of my personal gratification.
Fly Safe.
Rocks