Helicopter Cowboys
Posted on April 13, 2016
Karackters -> Helicopter Cowboys
"MIKE IF I EVER SEE YOU DO THAT YOU ARE GOING HOOOOOMMMME!!!" Came from Tony Artiga on one fine morning at the home base in Honiara, Soloman Islands. While he exuberantly waved his arms in excitement. My response was laughter, I simply could not help it after what had just occurred from a man that proudly represents the term 'redneck.'
This happened right after my new helicopter arrived at the Heli-Base ramp by the transitioning pilot. Well the arrival was the exact opposite of 'Text' book. The term hot dogging would come to mind watching this pilot come screaming into the ramp at full cruise speed, overflying the ramp at 100ft followed by a steep left turning 180 degrees. Then sliding sideways over another chopper at a rapid rate. Fluttering down in front of the main hanger in such a manner, debris and anything loose in the hanger flew in every direction. The rotorwash induced hurricane and noise certainly got everyone's attention.
Without restraint I could not help it but laugh because just the day before Tony and Ron Barr had fervently told me "No cowboys, if you hotdog the helicopter you will be gone!" Tony gave very through training and helpful insights before entering the fishing grounds during my stay in Honaira. Much care was given by Tony to ensure to take every step to be steady and slow on all of the maneuvers. This was stated repeatedly, and in the fishing grounds the days of cowboys were over…
Apparently, Jeff did not receive the memo! Ha! Despite Pato's (Jeff's mechanic) repeated warnings coming into the ramp as he could sense Jeff's eagerness to feel flirty with the capabilities of the H500 D model aircraft. Jeff could not resist, he was going home and was very eager to see his fourth but first long time wife.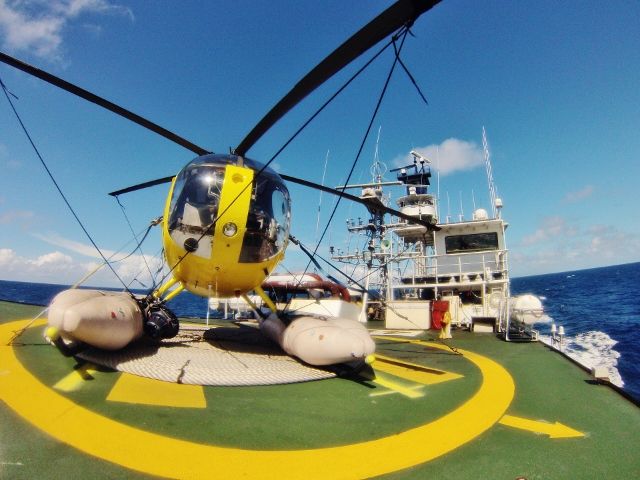 After the commotion had settled, I finally see…Yes, yes another fellow Murican. Sleeveless shirt with tattoos that many of them must have been conceived permanently to his skin during a non-sober holiday during his service for the United States Army for 16 years of service. He was smoking a cigarette with a purple nose in color from the blistering sun and white rings around his eyes so pronounced I thought he was still wearing some sort of glasses. "Jeff?" 'Yes.' "Glad to see a fellow Murican."
This man, this pilot, and now newly formed friend was a Karakter. He described his tales from the boat. The most recent shocking turn of events was after being on a Purse Seiner fishing boat for 40 days he notices the ship's cook taking out a live pig and murder it on the deck for the next meal.. "WTF, where the hell have they been keeping this pig!?" One evening at Cowboys we discussed the possibilities and most of the ideas involved some sort of juvenile comments followed by a lot of laughter. He filled me in on his plight with going home early and also all of the details of the 'awesome' crew and boat I was going to be taking over for. His wife was ill and he had been gone for 8 months without a discernable form of communication while on the boat.
Jeff is one of those rednecks that is always joking and has a phenomenal charisma with foreigners. The type that would get along in the Tuna fields quit well. His plight was he was only on contract for 3 months and still low time, somewhere in the 500s. "What am I going to do? I am low on money, I do not have the hours, nor know where the next job is. I want to come back here but they said I cannot come back because breach of contract."
In an industry of type A's with butting insecurities and egos some would never help another. However, I believe in karma. Good karma and this redneck, this pilot, and this cowboy was my friend from day one. Before I had come to the fields I had an interview set up with a company out of Murtle beach for flying tours and three weeks prior they were still fervently looking for pilots. I connected Jeff and coached him on some things that I had learned the hard way regarding approaching his interview. This company had gotten back to him and he had an interview scheduled two days after his 40 hours of traveling back to the states. It felt really good to help a new friend out.
I am sure I might see this Character once again in the industry. At the end of the day pilots help pilots. That is how it should always be. For the first time in my newly developing helicopter career, this is a place where the pilots help the pilots. A group, a brotherhood, and some of the characters will make for incredible memories and friendships. The Tuna field is place that bonds pilots as a group, not a place to back stab your fellow pilots because at the end of the day, when people share their experiences and stories they are helping keep other people safe. A lot of factors can provide for danger in this unique type of flying and the rank is not important of the pilots. Everyone has their own ship and mechanic, and we are all equals. It is such an interesting perspective seeing this type of fellowship that I fear in America has been lost among-st the allure, epaulets, and self-prestige of aviation glory.
As I dropped Jeff off at the airport. I mentioned "Every time the crew is ravaging the pig, I will be thinking of you Jeffrey!" God speed and fly safe my friend.
Rocks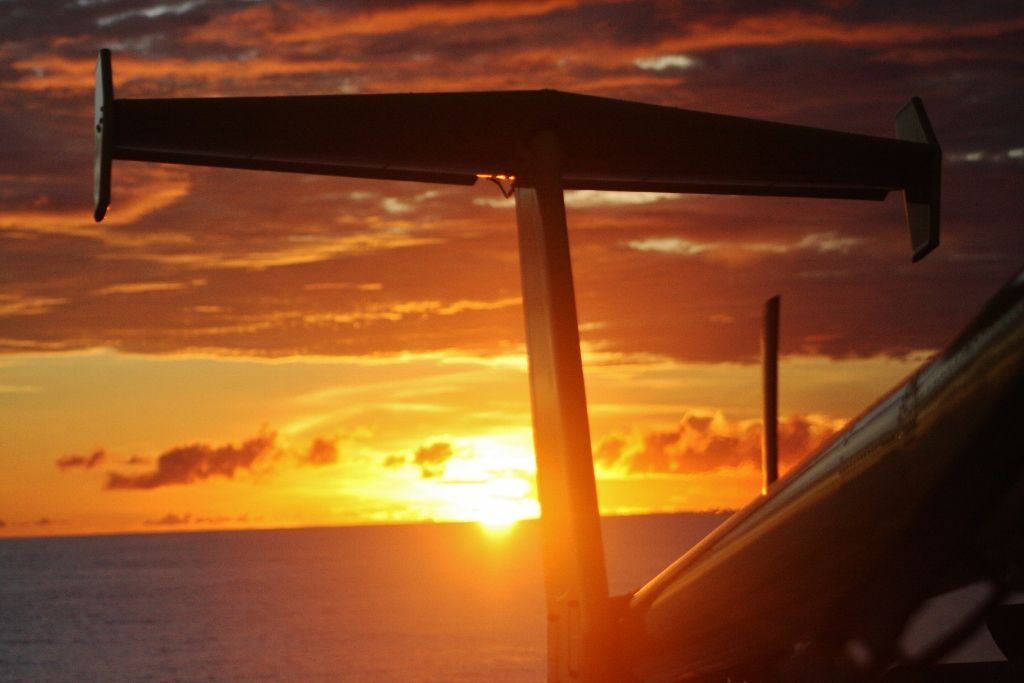 "DonK, it's name is Donk" One night out with Donk and Pato at cowboys we had entered a local shop for one of the fella's to get cigarettes…. When I saw him, it was magical, love at first sight. A rubber donkey that for the cost of $10 USD was mine. He most certainly did come to the club with us and everywhere else. So thus the traveling donk was creates… Soon to become a tuna field legend!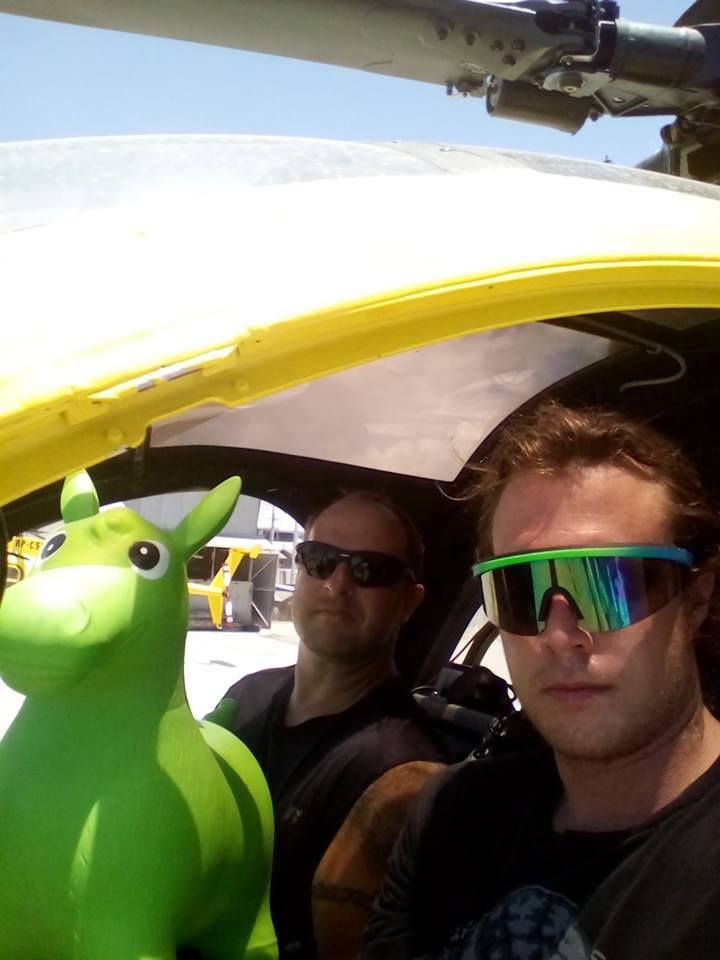 Last edited by mrocksma on May 13, 2016, 12:21 am