Posted on November 27, 2014
I had an old Aunt, who went skipping with me

Funny old girl. Very kind person. My mother's sister, Jenna. We were in London, walking along a street. I started skipping. Hell, I was maybe ten years old or so. She started skipping. Nothing wrong with that. Except she was in her late sixties'. Didn't stop her. We skipped around lamp posts. A red Pillar Box. We skipped past shops. We skipped across roads. We skipped past parked cars. We skipped along, avoiding the cracks. We skipped, for the sheer, unadulterated, mischievous hell of it. We skipped past other pedestrians, who mostly laughed, or smiled. We held hands while skipping. We bowed to each other, like some formal dance. Skipping is good.
Then… along the sidewalk, coming towards us, we saw this man. Tall, erect, serious, well dressed, with a frown of disapproval. It was obvious that he was not impressed. I guess he was the serious type. I was a bit intimidated.
Well, my Aunt did something I've never forgotten. She just went right on skipping. With not a care in the world. This sixty-something year old woman, conservatively dressed, skipping her heart out.
And she skipped right UP to Mister Serious-with-the-Frown. He stopped, definitely disapproving. We were a nuisance. In his (important) way. Dammit.
But Aunt Jenna just skipped right on up, CURTSIED, and skipped right on past him…
Remember the Gorilla?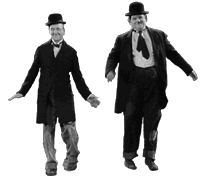 go back to list of possible Tunnels Out?
go back to Index?
Last edited by Francis Meyrick on November 28, 2014, 10:53 am